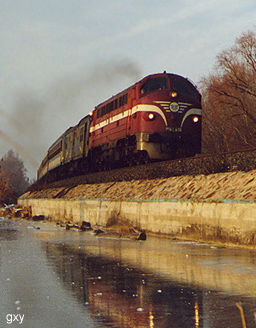 In 1999, a few enthusiasts of NOHAB-GM locomotives (and especially of the M61 class of the Hungarian State Railways – MÁV) got together to set up a foundation devoted to helping these machines on their way to survival. Unfortunately, the days of regular service of the class ended in the meantime; in late December 2000, the M61's were withdrawn. These circumstances certainly urge the community of NOHAB fans to unite their forces to preserve at least one of these legendary locomotives.
Thus, our non-profit foundation was formed with the goal of gathering financial means to support the maintenance of the remaining units, and as a long-term goal, to acquire at least one M61 class locomotive and keep it in operating condition to be used with excursion trains. Our further plans also include providing or distributing historical and technical information about the locomotives and their other GM-engined relatives for both education and hobby.
The locomotive we envisage to preserve is former MÁV-locomotive
M61-010
; a machine which one of our founders has already been supporting on its way to survival for 15 years by financial means and by countless hours of work as well, one of the results being its current livery the unit received early 1997. Since 1998, our members have been negotiating with the Hungarian State Railways concerning a possible purchase of the locomotive. Our efforts finally culminated in late 2001 in a contract for the acquisition of the machine. Meanwhile, the locomotive has been transferred to its new storage place, the former locomotive shed of Budapest Keleti station, and is undergoing first repairs (the current state and planned schedule of the overhaul can be seen
here
).
It is clear that acquiring and, most of all, maintaining a locomotive of this type is a costly undertaking, thus in the first period of our work, we will have to concentrate on allocating financial resources which are sufficient for the first major repairs. Thus, in the first years of our existence, we will not be able to provide extensive service in return for the donations; once we however succeed in the restoration of the machine, we will – beyond the free gifts, newsletter and information material – grant reduced prices at our excursions. Free access to the locomotive is already provided upon contacting us concerning a visit.
As for membership, we have set up a three-step system with different classes of supporters. Regular payments can be made either every month, every year, every five years or once in case of a bigger donation. Of course, we also appreciate donations which are not paid according to our planned schedule. A summary of the above mentioned system can be found on the
"Membership, sponsors"
page, where also a list of contributors is available.
Thanks in advance for your interest and support
The NOHAB-GM Foundation